About Yolan Font
Yolan Font is an elegant script typeface that was created by FadeLine for the first time. A lovely typeface with over a hundred characters, including punctuation, numerals, icons, and uppercase letters. It supported OTF, and TTF Format. You can use this typeface to make your projects attractive with its unique style.
There are several ways in which you can utilize its advanced features for business purposes. If you want to pair this typeface with something very similar, you can go with roman script font.
Because of its stylish glyphs, it is perfect for use in food design and naming, this font is also suitable for logos. The Yolan Typeface is very popular among designers and is used for web development and design.
Usage
Many designers use this typeface since it is supported by a variety of languages. Utilizing this typeface will enhance the appearance of your designs. Use this font to create attractive headlines and titles. Use this attractive typeface for menus, assignments, quotes, and presentations.
This tool is great for making awesome designs.  This typeface is best compared to the other script font. For thumbnail designs, theme designs, and other design projects, this stunning typeface is often selected by designers.
This attractive typeface has unique and beautiful strokes that are perfect for elegant logo designs, posters, banners, etc. Aside from brochure layouts, it is also suitable for product designs, label designs, banner designs, clothes designs, etc.
Yolan Font View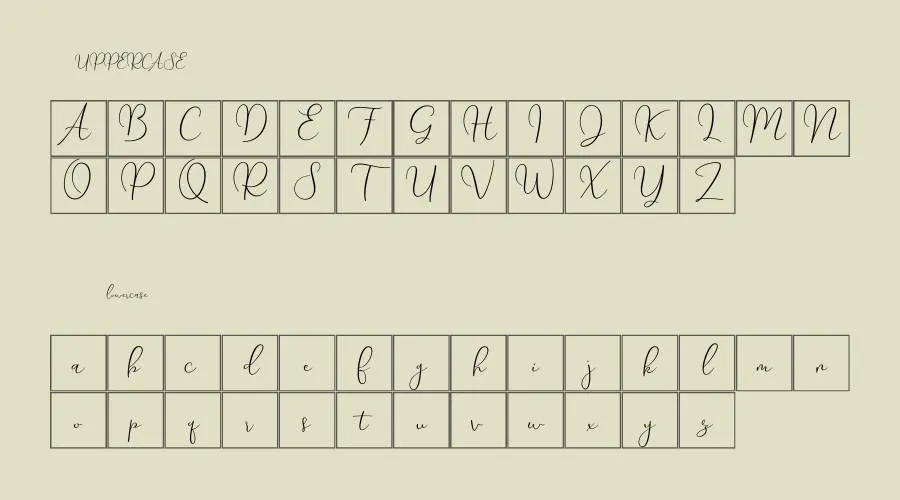 Font Information
| | |
| --- | --- |
| Name | Yolan Font |
| Designer | FadeLine |
| Style | Script |
| Type | OTF, TTF |
| License | Free for personal use |
Font Family
Fonts Similar to Yolan Font
December Sky Font
The font is perfect for logos, websites, and other uses. If you want to add a charm to any coming project, the typeface is perfect.
Autography Font
The texture of the typeface is commonly used in a variety of others advertising campaigns. The font's interesting material pattern can make any content sparkle.
Below we have listed a few more similar fonts to Yolan Font.
Potatoes and Peas Font
SymphonieCAT Font
B de bonita regular Font
Font Pairings
Pairing it with LoosieScript Font and Porosa Font you can create some amazing and beautiful designs for your task.
Other Fonts
OPTILariatScript Font
Distant Stroke Font
License Information
When you contact the font owner's site, you can easily obtain the paid version or the license to use the font for all your office needs.
FAQs
What is the online generator tool of Yolan Font?
Providing this facility is a free service offered by the font designer. For all beginners, this free program works online and is easy to use.
Can I use Yolan Font for logo designs?
Logos for YouTube channels, Instagram accounts, business websites, and shipping websites are best created using this font.
Is Yolan a Free Font?
Yolan font is free for personal use, but you might need permission if you want to use it for commercial purposes.
Can I Download and Use Yolan Font on My Pc and Mac?
Yes! Downloading and using Yolan Font on your mac and PC are free of charge.
Download
From here, you can download a free version that is suitable for all private tasks. You can download it by clicking on the button below.